MESSAGE FROM OUR MANAGER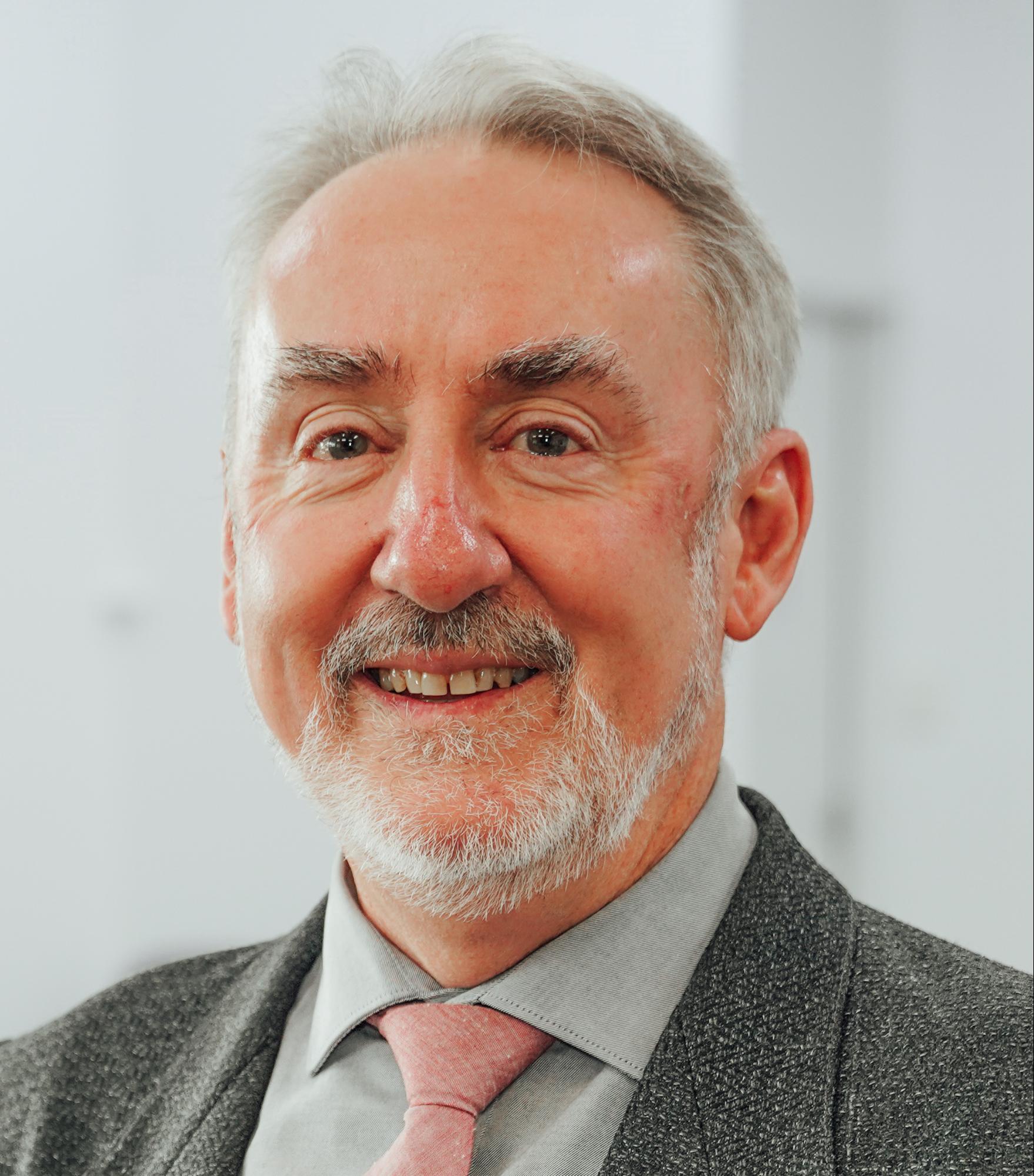 Family - The Shaping of the Person and the Future
Dear Friends,
Your family is God's prescribed site for your child's personal and social development. It is also God's prescribed site for your development!
When you married, you changed your status. You were a single person, with the personal goals and commitments necessary to your development and status. When you married, you embraced a new status, not as two singles but now as a new unique unit, with new goals and new commitments. You used to say "I" and "me". Now you say "we" and "us". The new goals are about unity – oneness. As a united couple, your new commitments are to your children right now, to their immediate future and to the many future generations of your family.
Marriage changed everything for you. You formed "a house". In New Testament Greek this is called an "oikos". Your "house" is not merely about the four walls in which you live. It is the establishment of your future generations. The birth of our ninth grandchild last Wednesday confirmed this to my wife and I, yet again.
Your house develops upon love, trust, responsibility and accountability between family members. Each family member has their role to play. Love, trust, responsibility and accountability exists only in a social setting that respects those features. Your family must respect these attributes as you shape the children in your "house", your "oikos".
You develop bonds in your "oikos" (house). These are bonds between spouses; bonds between parents and children, bonds across your extended family. Your bonds are also between (i) you and those of your house who have died – your parents and their parents; between (ii) those with whom you live today and (iii) those who are yet to be born, even to your children's children, one hundred years into the future.
Your "house" includes those who have passed away, those who are living and those yet to be born. You may not have realised it, but you have made commitments to be true to the past, to the present and to the future. To be true to the dead, the living and to the unborn.
As we live and operate in the present, we shape ourselves and our children. In doing this, we shape the future generations of "our house". This is God's way. It is designed to establish love and order on the earth and to populate His Heaven with His children. Even though we are imperfect and we make errors, mistakes and we sin, God's way still operates despite our inadequacies.
Whether you have an intact marriage, are a single parent, are divorced or estranged, you are shaping your "house" and God is working with you to create something precious and to advance it into the future. This is the power of your "house"!
As a home schooler, you have taken a special interest in your "house". You have taken on the full-time education of your children. You are not only shaping just your "house", there are thousands of you. Thousands of other home educators are shaping their houses. As a Christian home schooling family, you are shaping our society. Christian home schooling families bring great "salt" (value) to our society.
Edmund Burke, that great Irish statesman and philosopher of the eighteenth century, saw that a big society was made up of "little platoons". He stated that "to love the little platoon we belong to in society, is the first principle of … a love to our country and to mankind."
Your love of your "house" (oikos) is loving your "little platoon", your family and it is an expression of love to your country and to mankind in general.
There are so many of you home educators out there in Australia and overseas. You are not only shaping your children. You are shaping your "house", the future generations of your house, your "oikos". As you do this in the thousands, these become ten thousands and then hundreds of thousands, you are shaping the future of our nation.
Our nation needs godly "houses" now, more than ever before.
Keep on keeping on in your "little platoon" as you shape your "house" and this nation for God and for good, as we proceed into the future.
Yours for Christ and Christian home education,
Terry Harding
Manager.
IMPORTANT NOTICES
Finish Well
We are racing towards the end of the academic year.
Please make sure that your students are working towards finishing their PACEs by the end of term. It is not wise to leave a PACE unfinished in December and then return to it at the start of the next year.
Also, please make sure you get your completed, scored PACE Tests to the office as soon as possible at the end of the year, so that we can record the scores and prepare your reports.
The ACHS Team.
Postage Delays
We have noticed that some of our families are experiencing delays in receiving curriculum orders, as well as mail from our office. This seems to be a more significant issue for our Victorian and Western Australian families.
Please keep this in mind when placing orders leading up to Christmas and into the new year. If you are able to, place your orders well in advance to ensure timely delivery of your student's materials.
HIGH SCHOOL MATTERS!
2020 is fast drawing to a close, and considering the year that has been, it is important to be focusing on what is needed for graduating students. For those students wanting to get their certificates at the end of 2020, please contact the Office ASAP to finalise credits as applications can take up to 6 weeks to process.
We are also in the process of finalising plans for our yearly celebration events, under very different circumstances than this time last year. Keep an eye out for more information in your inboxes shortly.
Here at ACHS, we want all our High school students to succeed and be able to be successful in their chosen vocation. We can help families with:
Career advice
Subject planning for all our Certificate levels
Post schooling pathway planning
University entrance preparation
Apprenticeships and TAFE support
Academic support for all subjects
Another really pleasing development is that A.C.E. have made available online, all of the high school subject videos. These can be ordinarily ordered through our e-store as DVD's, but are quite expensive. Now you can access them all for free through this link below.
https://www.aceconnect.com/video-library
Nathan Roberts
Academic Consultant
The Importance of Conflict
People often look to avoid conflict in relationships. This can be true of marriages, of parent-child relationships, in business and in the community.
The truth is that when people have conflicting ideas, there is an opportunity for development and growth. I do not mean emotional, anger-fuelled conflict that destroys relationships. Conflict of differences and ideas which are discussed in a respectful context, with a view of arriving at a positive outcome is where new ideas can breathe and friendly compromise and agreement can be achieved.
In your home, you already know that your children will disagree with you on occasions. It is important to diffuse heated discussions and open up opportunities for constructive discussion.
The parent is still the one who must be in charge. And with that responsibility the parent can lead a child away from tantrums into the realm of obedience and on occasions into the realm of constructive discussion of differences.
God celebrates DIFFERENCE. Just look at fingerprints, snowflakes, colours and fragrances.
In resolving conflict, listening to the other person is critical. The proof of a good listener is when they can repeat back what the other person has said. The proof of a good outcome is when both can agree to a positive solution.
Develop your listening skills. Jesus said "blessed are the peacemakers". In a context of love and acceptance, there is usually a good answer to be found which may suit both parties.
Log-O-Phile
We use spoken and written words every single day to communicate ideas, thoughts, and emotions to those around us. Sometimes we communicate successfully, and sometimes we're not quite so successful. A good vocabulary can help us say what we mean. Here are some new words to add to your student's vocabulary.
| | |
| --- | --- |
| conflict (noun) | To have a disagreement; be at variance or in opposition |
| resolve (verb) | To come to a definite decision or solution |
| compromise (noun) | A settlement of difference by mutual agreement |
| debate (noun) | A discussion or contest involving opposing viewpoints |
| agree (verb) | To harmonise in opinion or feeling, to give consent, to live in concord without contention |
Scripture Memory
At the start of lessons every morning, have your children read aloud, with you, the Monthly Scripture Memory Passage. Have them read either from their Bibles or from a printed sheet. Adjust the size of the passage to fit your child's age and skill level. This exercise should only take a minute or so.
After a single, aloud reading every day for a month, your child may have memorised the passage. If not, they may need some dedicated time to practice e.g. at night after dinner etc.
When your child can say the Scripture passage to you by heart, record this on your Supervisor's progress card and the Monthly Attendance Sheet. Put a Bible sticker on their Star Chart and don't forget to give them a reward for this important achievement.
You are free to use any version of the Bible for this activity. You may wish to download an electronic version of the Bible, for printing the Scripture passages for your child to learn, or you may click on the passages below for a printable version.
Trading Post
Trading post will continue to be a place where you can connect with other families, who might be looking for 2nd hand score keys or resource materials. You may email us here at ACHS with your advertisements, and we will endeavour to list as many as we are able. When sending us items to be listed for sale, please follow these important guides:
Used PACEs and PACE tests are NOT ALLOWED to be resold. Only used score keys and resource materials such as literature books may be advertised through the trading post.
Ensure that you provide accurate contact details. The ACHS office does not manage the transactions listed in the trading post. If you would like people to buy your items, provide them with the best way to get in contact with you.
When listing your items, list them clearly and accurately.

Maths SK 1037-39, 1040-42, and so on.
English SK 1037-39, 1040-42, and so on.

It would also be advisable if you are able to identify if the Score Keys are edition 3 or 4. As there may be differences in content between editions 3 and 4, it will assist you in finding a buyer.
FOR SALE
---
Score Keys $2 Each
Maths SK: 1008, 1009, 1010A
English SK:1013, 1014, 1015, 1018, 1027, 1029, 1055-57, 1058-60, 1064-66
Lit & CW SK: 1013-15
S/Studies SK: 1013, 1014, 1015, 1016, 1018
Science SK: 1013, 1014, 1015, 1016, 1064-66
W/Building SK:1013, 1014, 1015, 1016, 1052-1054
Postage to be paid by the buyer.
Contact Sandra on 0476 101 879 or email sandra_taverner@hotmail.com
---
Score Keys $2 Each
Maths SK: 1014, 1015, 1016
English SK:1014, 1015, 1016
Lit & CW SK: 1013-15, 1016-18
S/Studies SK: 1014, 1015, 1016
Science SK: 1014, 1015, 1016
W/Building SK:1013, 1014, 1015, 1016
Postage to be paid by the buyer.
Contact Debbie on 0421 020 925
---
Score Keys $2 Each
Maths SK: 1019, 1020, 1021, 1022, 1049-51, 1052-54
English SK:1019, 1020, 1021, 1022, 1023
Lit & CW SK:1019-21, 1067-69
S/Studies SK: 1019, 1020, 1021, 1022
Science SK: 1019, 1020, 1021, 1022
W/Building SK:1019, 1020, 1021, 1022, 1023, 1024, 1055-57
Grammar: 1-3
Postage to be paid by the buyer.
Contact Michelle on 0418 824 722
---
Score Keys $2 Each
Maths SK:1052-54, 1055-57, 1058-60, 1061-63, 1070-72, 1073-75, 1076-78, 1079-81
English SK:1055-57 (x2), 1058-60, 1061-63, 1067-69, 1073-75
Lit & CW SK:1064-66
Science SK: 1052-54 (x2), 1055-57 (x2), 1058-60, 1061-63, 1067-69, 1073-75 (New),
1076-78 (New), 1079-81 (New)
S/Studies SK: 1061-63, 1067-69, 1073-75
World History SK: 100-102
Economics SK: 1139-1141 (1-3), 1142-1144 (4-6)
W/Building SK:1067-69
Etymology SK:1100-1102
Old Testament Survey SK:115-117
Basic Greek SK:121-126, 127-132
Basic Greek Handbook
Score Keys $1 Each
S/Studies SK:1049A, 1050A, 1058A, 1059A, 1060A
Postage to be paid by the buyer.
Contact Kate on 0418 824 722 or email kbelousoff@me.com
Attendance Sheets
Keeping a record of your children's attendance to their learning is an integral part of the procedure here at ACHS. Not only does it form part of your record keeping requirements for your homeschool registration, but it helps us see an overall picture of how the students are working. You may download the attendance sheets here: